For this first year, the theme [r] EVOLUTION feed the debate on the challenges and changes of a rapidly changing world.
TEDxMonteCarlo is a full-day conference that takes place once a year in Monte-Carlo, Monaco. It is designed to give our community, organizations and individuals the opportunity to spark conversations and share ideas through TED-like experiences at the local level.
True to the format of TED conferences, TEDxMonteCarlo will bring at least 10 speakers each year to share ideas that matter in any discipline – technology, entertainment, design, science, humanities, business, development.
About TEDx, x = independently organized event
In the spirit of ideas worth spreading, TEDx is a program of local, self-organized events that bring people together to share a TED-like experience. At a TEDx event, TED Talks video and live speakers combine to spark deep discussion and connection. These local, self-organized events are branded TEDx, where x = independently organized TED event. The TED Conference provides general guidance for the TEDx program, but individual TEDx events are self-organized. (Subject to certain rules and regulations.)
Contact: media@tedxmontecarlo.com or visit www.tedxmontecarlo.com.
Use @tedxmontecarlo to talk about us on Facebook, Twitter and Instagram.
Louis Winsberg will be one of the 10 speakers TEDxMonteCarlo on november 26 !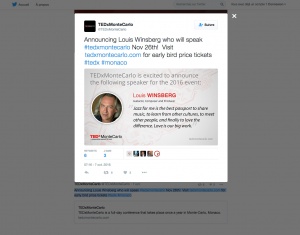 What is TEDx?
The TEDx Program is designed to help communities, organizations and individuals to spark conversation and connection through local TED-like experiences.
At TEDx events, a screening of TED Talks videos — or a combination of live presenters and TED Talks videos — sparks deep conversation and connections at the local level. TEDx events are planned and coordinated independently, under a free license granted by TED. Learn about the TEDx event types.
TEDx is a global movement devoted to bringing Ideas Worth Spreading to communities around the globe through independently-organized TED-like events meant to inspire conversation, prompt innovation and create connections.


At the core of the TEDx program are its fearless volunteer organizers in almost every corner of the world — Germany, Sudan, Qatar, China, India, Brazil, the United States and more — devoted to changing the world through events centered on ideas important to their community, and the world at large.

To find a TEDx event near you or learn how to host your own, visit our website at http://www.ted.com/tedx.

About TED
TED (Technology, Entertainment, Design) is a American set of conferences run by the private nonprofit organization Sapling Foundation, under the slogan "Ideas Worth Spreading". (Wikipédia : https://en.wikipedia.org/wiki/TED_(conference))
Become partner

TEDxMonteCarlo is a nonprofit event, you can help the TEDxMonteCarlo community of thinkers, dreamers and visionaries to grow by becoming one of our partners.
Enregistrer
Enregistrer
Enregistrer
Enregistrer
Enregistrer
Enregistrer
Enregistrer
Enregistrer
Enregistrer