New video – LIBERTAD taken from JALEO – "for Paco"
Here is the new video of Louis Winsberg LIBERTAD.
Taken from the album JALEO  "for Paco" – France 2016 – NEMOMUSIC
Voices: Sabrina Romero et Alberto Garcia. Saz Bass: Louis Winsberg et Cedric Baud
Video capture and editing: Sebastien Barthelemy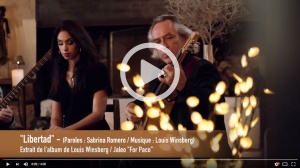 For the last 20 or so years, Louis Winsberg has maintained a quasi-love relationship with flamenco. This is the third part of a trilogy in which his guitar has a more central and acoustic role. A thorough work on vocals and percussion, also giving it more color "flamenco song" nourished by Indian tabla and Cuban percussion. A rich and joyful music, an invitation to travel. It remains this unique balance between instrumental, singing and dancing so specific to flamenco.
With: Louis Winsberg (guitars), Sabrina Romero (vocals, dance, cajon), Alberto Garcia (vocals, palmas), Cedric Baud (saz, guitars), Stéphane Edouard (percussion).
"I dedicate the music of this album to Paco De Lucia, who was able to open the world of flamenco to jazz music and improvisation and bring his art to a level of very rare purity and power. During all those years, his light has illuminated my quest for a Mediterranean jazz" Louis Winsberg.
© Jean-Baptiste Millot
Enregistrer